This update includes 1500 selections related to new models and new diagnostic systems for a total of over 6000 overall selections dedicated to the brands: Audi, Bmw, Citroën, Daihatsu, Fiat, Ford, Hyundai, Jeep, Kia, Lancia, Land Rover, Lexus, Mazda, Mercedes-Benz, Nissan, Opel, Perodua, Peugeot, Renault, Romano, Subaru, Suzuki and Toyota. The most exciting and useful development is a feature allowing vehicle selection by VIN.
Here are the most notable new diagnostic feature included in this car software update:
Vehicle Maintenance
BMW: 1 [04>11] (E87) 116 d; 3 [05>11] (E90) 316 d; 5 [03>10] (E60) | EU 520 d; 7 [00>08] (E65) | EU 735i Kat.
CITROEN: DS5 [11>] 1.6 e-HDI; DS5 [11>] 1.6i Turbo THP Kat; DS5 [11>] 2.0 HDI Hybrid 4×4.
DAIHATSU: Atrai [00>04] | JP 1.3i Kat; Atrai Wagon [99>05] | JP 0.7i Kat; Atrai Wagon [99>05] | JP 0.7i Kat 4WD e 0.7i Turbo Kat; Bego [06>] | JP 1.5i Kat; Boon [04>] | JP 1.0i Kat; Boon Luminas [08>] | JP 1.5i Kat 4WD; Esse [05>11] | JP 0.7i Kat; Hi-Jet [00>07] | JP 0.7i Kat 4WD.
FIAT: 500L [12>] 0.9i 8v TwinAir Kat; 500L [12>] 1.3 MJ 85; 500L [12>] 1.4i 16v Kat; Punto [09>] (199) Evo 1.2i 8v Kat; Punto [09>] (199) Evo Van 1.4i 8v Kat Natural Power.
HYUNDAI: Accent II [00>05] | US 1.5i 16v Kat; Avante [11>] (MD) | KR 1.8i Mpi 16v Kat; Azera [11>] (HG) 2.4i 16v Kat; Coupe' [01>09] (GK) | EU 2.0i 16v CVVT Kat; Elantra [00>06] (XD) | EU 1.8i 16v Kat; Genesis [09>] (BH) | EU 3.3i V6 GDi Kat.
Key Coding
KIA: Cee'd [12>] (JD) 1.4 CRDi; Cee'd [12>] (JD) 1.4i CVVT Kat; Cerato [13>] (YD) | EU 1.6i 16v GDI Turbo Kat; Forte [13>] (YD) | EU 1.6i 16v GDI Turbo Kat; Picanto [11>] (TA) 1.0i Kat; Rio [11>] (UB) 1.2i 16v CVVT Kat.
LEXUS: ES 300 [96>03] | JP 3.0i V6 24v Kat; GX 470 [02>09] | JP 4.7i V8 32v Kat; IS 200 [99>05] (E1) Sedan | JP 2.0i 24v Kat; RX 330 [03>09] | JP 3.3i V6 24v Kat.
VAUXHALL/OPEL (GM): Combo Tour [12>] 1.3 CDTI; Combo Tour [12>] 1.4i Turbo Kat CNG.
PERODUA: Alza [09>] | AE 1.5i 16v Kat; Kelisa [01>07] | AE 1.0i 12v Kat: Kenari [00>04] | AE 1.0i 12v Kat; Myvi [05>] | AE 1.3i Kat; Nautica [08>] | AE 1.5i Kat 4WD; Viva [07>] | AE 1.0i Kat.
TOYOTA: Alphard I [02>08] | JP 3.0i V6 24v Kat; Celsior [00>06] | JP 4.3i V8 32v Kat; Corona [97>01] (T21) Premio | JP 1.6i 16v Kat; Kluger I [03>07] | AP 3.0i V6 24v Kat; Picnic II [01>09] 2.0i 16v Kat.
EGR Valve
VOLKSWAGEN: Caddy [10>] (2C/2K) 1.2i TSI Kat; Caddy [10>] (2C/2K) 1.6 TDI; Caddy [10>] (2C/2K) 1.6i Bi-Fuel Kat LPG.
Parking Brake
SUBARU: Legacy [09>] (BR) 2.0 D 4WD; Legacy [09>] (BR) 2.5i Turbo 4WD Kat; Outback [09>] (BR) 2.0 D 4WD.
VOLVO: S60 II [10>] 2.0 D3; V60 [10>] 2.0 D3; XC70 II [07>] 2.4 D3 AWD.
Video Camera
CITROEN: C 3 [09>] (A58) Picasso 1.6i 16v Kat; DS3 [10>] (A55) 1.4 HDI.
PEUGEOT: Partner Tepee [08>] (B9) 1.6i 16v Kat; RCZ [10>] 1.6 16v HDI.
As for previous releases, please bear in mind that newer software functions may not be available for previous generation devices (e.g. Navigator Mobile & Tribox with A-Dia module).
New Software Functions
VIN Vehicle Search
Arguably the most useful function introduced with this CAR 52 update is the possibility to identify the model of the vehicle you are working on by entering its VIN. This search was added to the other search options, by engine code and license plate number, within a single screen. By entering the VIN, the software identifies the vehicle you are going to work on quickly and precisely. If the VIN is not available, you can scan the vehicle to acquire it and then use it to identify the model.
Note that this function is not available in IDC4 Pocket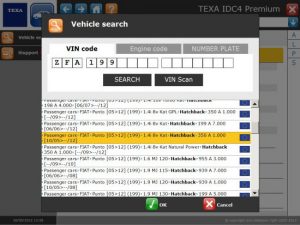 Engine Management
During Self-diagnosis, within the Injection system you will find the item "Engine Management". It is a new function that allows you to launch the basic diagnosis of the engine control units, with the display of the parameters and the reading and deletion of the DTCs. The basic diagnosis previews the complete diagnosis that will be available in the following versions.
NOTE: Engine Management is not compatible with "old generation" tools, such as NAVIGATOR MOBILE and TRIBOX with A-DIA module, in which the software will show the warning "Diagnostic function not supported by the product in use".
Pass-Thru
TEXA is proud to announce that with this software release you can operate in Pass- Thru mode using the diagnostic devices NAVIGATOR TXC and TXT. You will be able to work on different brands* of vehicles, after having registered with the EURO5 section of the sites of the various manufacturers and respecting the requirements. You will also have to purchase the reprogramming software at the prices determined by each manufacturer. The software must then be installed on a PC and, once TEXA's tool is configured, it will be possible to proceed with the Pass-thru diagnosis.
* only for brands that do not require the VCI Pass-Thru certification
Texa Apps
These additions to your current IDC4 software are available to request now:
Getting Texa IDC4 Car software
NB Texa have sent incorrect letters to many of our customers stating that you are out of contract and should therefore call them directly to renew.  Please ignore this letter and continue to contact us directly for your support and updates.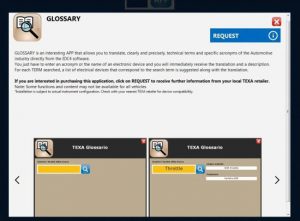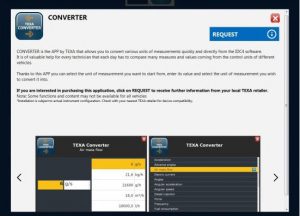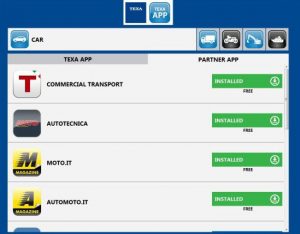 Customers with an active TexPack Contract (software updates subscription) can download version 52 from the Internet by providing an Internet connection to their Testpad or laptop.  IDC4 will search for the latest appropriate update and prompt you to allow download and installation.