Now covering 208 brands, 3994 models and 35,032 systems! In 14.3 Jaltest Soft provides 13,774 wiring diagrams and 8,069 technical information articles.
Jaltest Soft 14.3 – New Functions
Calendar and time are integrated in the main screen
The main connection screen includes the most relevant information about the connected system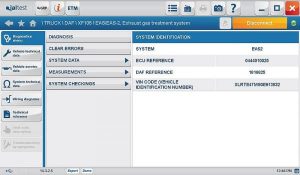 New report closing process – "Stop diagnostics report" icon added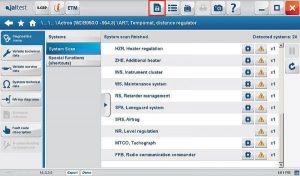 Example given after a system scan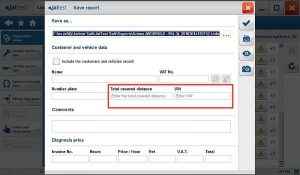 New function to rotate wiring diagrams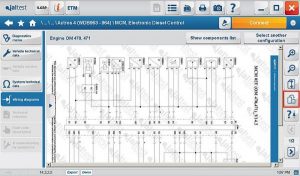 New function "system display" allows the user to visualise the different inputs and outputs controlled by the system on an operational scheme
New design for the Glossary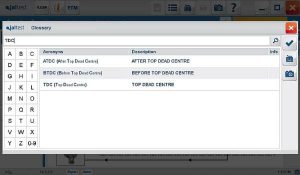 ETM – New Diagnostic Functions
New easier and faster update process
New modules to check inductive wheel speed sensors and brake pad wear sensors
Module for wheel speed sensors used in ABS/EBS systems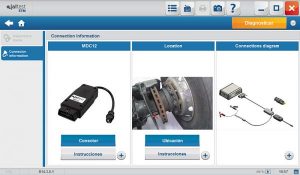 Module for brake pad wear sensors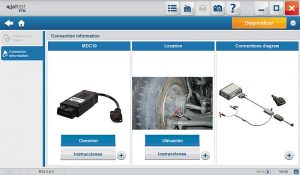 Jaltest 14.3 – New Diagnostic Functions
DAF Trucks
New functionality for systems on Euro 6 models (CF MX-11 E6, CF MX-13 E6, XF E6) Highlight functions:
PCI, Paccar Common‐Rail Injection

Throttle pedal calibration, acceleration test, turbocharger actuator

EAS‐3, Emission Aftertreatment System

AdBlue system purge, heaters activation

ECAS‐4 Electronic Control Air Suspension
EBS 3, Electronic Braking System
SAC, Smart Air supply Control
EST‐52, Retarder
BBM, Body Builder Module

PTO parameters configuration
CF 65 IV, LF 45 IV & LF 55 IV, NOX data reset integrated in ECS‐DC4
IVECO Trucks
Coverage improvements in Euro 6 (Stralis Hi-Way, Hi-Road, Hi-Street and Trakker) Highlight functions:
Auxiliary heater, Eberspächer
CU, Climate unit
IVTM, Tyre pressure control
ACC, Adaptive Cruise Control
LDWS, Lane Departure Warning System
Iveconnect, Multimedia screen
UTP, Telematic Unit
MAN Trucks
Coverage improvement in Euro 6 (TGL Euro 6, TGM Euro 6, TGS Euro 6, TGX Euro 6)
Highlight functions:
EDC 17, Electronic Diesel Control, injectors calibration
DPF, differential pressure sensor reset
PTM, Powertrain Module, new actuations
Service PTM, additional maintenances
Mercedes Benz Trucks
Coverage improvement for Actros 4, Antos and Arocs.
Highlight functions:
ATA, Alarm system, Alarm record reset.
CPC, Common Powertrain Control, parameters configuration
CGW, Gateway, fuel and AdBlue tank volume configuration
Likewise the wiring diagrams of the main systems have been developed.
New diagnosis functions for Actros 2/3 (WDB930.0-934.3)
BS, Braking system, Steering angle sensor calibration (FDR).
INS, PTO configuration
GM, basic module, daylight configuration
Vehicle level learning process and parameters copy in NR Siemens, electronically controlled suspension system installed in Atego 9BM958.0 – OBD, Atego WDB970-976, NAB374.4 – OBD, Atego WDF375.1, NMB375.1 – OBD, Axor -C 9BM958.4 – OBD, Axor -C WDB940 – 944, NAB374.6
Nissan Trucks
Engine system for NT500 model has been developed, including parameters configuration, calibrations, components actuations.
Renault Trucks
In the main systems of Euro 6 models (engine, brakes, gearbox, exhaust gases after treatment system, compressed air processing) the basic diagnosis functions have been developed.
C Series V3 Euro 6
C Series V4 Euro 6
K Series V4 Euro 6
T Series V4 Euro 6
Scania Trucks
New Euro 6 models of series R, P and G have been developed with a high coverage for diagnosis and technical information.
Relevant functions for Euro 4 and 5 models have been developed.
Highlight functions:
EGR system reset, parameters restoration and speed limit modification in EMS PDE, P,R and G series
Parameters configuration in RET (retarder) P,R and G series
Volvo Trucks
In Euro 6 models main diagnosis functions have been developed:
FE V3 Euro 6
FE V4 Euro 6
FH V3 Euro 6
FH V4 Euro 6
FL V3 Euro 6
FL V4 Euro 6
FM V3 Euro 6
FM V4 Euro 6
Trailer systems
Better coverage in Haldex EB+ Gen 3: internal accelerometer calibration, system counters reset and more parameters configuration.
LCV
New technical information and wiring diagrams for the following brands:
New diagnosis function highlights:
Mercedes Benz

DPF regeneration process while vehicle is moving, CR/EDC 16CP31 MB Sprinter
Learning process in gearbox EGS SSG for MB Sprinter
DPF regeneration CDID2, Electronic Diesel control

Ford

System purge ABS ISO9, Ford Series E & F
New system ABS HSCAN, Ford Series F
Injector coding and parameter configuration EEC5/ EDC CR Delphi, Ford Transit

GM

ECM L31, new engine system
ECM LH6, new engine system
Development of the system Aisin A465, Transmission Electronic Control Unit
Development of the 4HK1-TC (CAN), Electronic Diesel Control, Common Rail

Hino USA

System reset HABS Meritor Wabco
Development of DCU, Exhaust gas treatment system, including system reset and actuations of the main components
Development of the EDC J08E-TB, Electronic Diesel Control

Isuzu

Development of system 4HK1-TC
Development of system 6HK1-TC

Piaggio – New Brand!

Development of the main systems of Porter with engine BDT1M:

EPS Delphi, Steering controller,
ABS MK25, Anti-lock braking system
EDC 17 C08, Electronic Diesel control

Renault

Development of the system EDC ECCS ZD-K, Electronic diesel control, for Mascott DXi phase II models including DPF regeneration & injector coding
Development of the system Body Computer 3.7 for Master DCi
AGV
New brands:
Buhler Versatile, tractor models with Cummins engines
Challenger, tractor models with Caterpillar engines
Energreen, including ILF with John Deere engine
Frank Kleine, including SF10 with Volvo engine
Hürlimann, series XB, XL, XM, XS, XT models
JCB, Fastrac models
Laverda, including M Series models with Caterpillar engines
Ropa, Euro-Tiger series models
As well as new technical information in the following brands:
Case
Class
Deutz-Fahr
Fendt
John Deere
Lamborghini
Massey Ferguson
New Holland
Same
Asian market vehicles
Hino
Injector coding in engines N04C-TT, N04C-TV/UT, N04C-UY, A09C-TK, J08E-TB, N04C-TF & S05C-TB installed in vehicles of Series 300, 500 & Dutro.
Isuzu
Fuel pressure test 4HK1-TC and activations of the gearbox AISIN A465. New technical information, including the wiring diagram for ABS/ASR Hydraulic.
Hardware
JDC 114A Adapter for Haldex EB+ Gen3