Jaltest Soft 14.2 builds on the initial Euro 6 coverage introduced in 14.1 and continues to add new brands, models and systems.
Coverage
This release brings the number of brands covered to 192, offering 3,744 vehicle models and 3,1951 systems.  There are now an enormous 6,564 Technical information articles and 12,344 System Wiring Diagrams!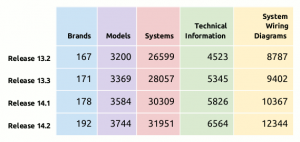 Truck
DAF
LF 
CF MX-11 
CF MX-13
XF (Previously listed as DAF XF106/XF116)
The Paccar Common-Rail Injection PCI is a newly added system and there are enhancements in the following main systems:
EAS-3 Emission After-treatment System
ECAS-4 Electronic Control Air Suspension
EBS 3 Electronic Braking System
SAC Smart Air supply Control
VIC-3 Vehicle intelligent Controller
DIP-5 Digital Instrument Panel
Iveco
New Stralis Hi-Way, Hi-Road and Hi-Street Euro 6 models have been developed and main systems are covered by diagnosis.
EDC 17 CV41 Electronic Diesel Control
EBS 2 Smart Electronic Braking System
MAN
More Euro 6 coverage with these models:
The main systems developed for these vehicles:
EDC 17 Electronic Diesel Control
NONOX Exhaust gas after-treatment system
Mercedes Benz
There are new diagnostic functions for Actros, Antos and Arocs models:
DPF (Diesel Particulate Filter) replacement in ACM (After-treatment Control Module)
Service data reset in MS (Maintenance System)
Renault
Service warning reset is now available for all DXi models in the Maintenance System
TBV Gearbox Management System for older DCi Premium and Magnum models is now available
All ECS Electronically Controlled Suspension parameters can now be modified
Scania
For PDE engine type models all dignostic functions are now available in the EMS Engine Management System – this includes NOx data reset.
SMS Suspension Management System gains pressure sensor calibration and activations.
Volvo
EDC Engine Management diagnostic functions for Euro 5 vehicles are now present – of partiucular note is DPFDiesel Particulate Filter regeneration
ESA Electronically-controlled Steering Axle calibration has been introduced
Light Commercial Vehicles
14.2 sees improvements and additions to Technical Information, mainly wiring diagrams and system technical data for various LCV brands including Citroën and Fiat.
Mercedes Benz
DPF Diesel Particulate Filter regeneration procedure for Sprinter models running CR/EDC 16 CP31 (Common rail)
DPF Diesel Particulate Filter regeneration procedure in CDID2 Electronic Diesel Control for Sprinter models running OM651 engines
EGS SSG Sprinter gearbox learning process
Ford
Transit injector coding and parameter modification of Delphi EEC5/EDC CR
Isuzu
For all F G H & N series Isuzu vehicles:
4HK1-TC Electronc Diesel Control
6HK1-TC Electronc Diesel Control
Renault
EDC Electronic Diesel Control ECCS ZD-K for Phase II Mascott DXi models including injector calibration and DPF Diesel Particulate Filter regeneration
Body Computer 3.7 on Master DCi models
AGV
Many new brands added:
Buhler Versatile adding models with Cummins engines
Challenger adding models with Caterpillar engines
Energreen adding the ILFF model with John Deere engines
Frank Kleine adding the SSF10 model with Volvo engines
Hürlimann adding XBB, XL, XM, XS, XT Series models
JCB adding Fastack models
Laverda adding M Series models with Caterpillar engines
Ropa addding the Euro‐Tiger Series of models
Existing brands gain important innovations and technical information:
Case
Claas
Deutz-Fahr
Fendt
John Deere
Lamborghini
Massey Ferguson
New Holland
Same
New software functions
GRP Synchro
GRP (Garage Reception and Productivity) is the module where you manage the vehicles that have been worked on using Jaltest. The continued development of this useful function sees the introduction of GRP Synchro to allow data to be shared and synchronised between different software installations associated with one Jaltest Link.
A new icon in the status bar shows the current status of GRP Synchro. The GRP Menu has gained two items Brands Portfolio & Reports which were formerly in the Main Menu.
Battery indicator
Another new icon shows the battery status of the laptop or Eclipse Testpad running Jaltest Soft.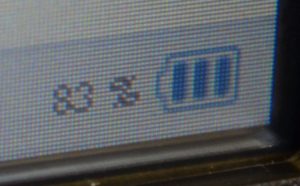 License reminder
Once you have updated to the latest version of Jaltest Soft the equipment must be registered online otherwise the software will be blocked.
Please therefore ensure that you have completed this step by checking that Jaltest runs before accepting mobile diagnostic jobs with no chance of Internet access.
Visit Jaltest and login with your username and password to download the update from the client area.