Euro 6 coverage introduced and trailer ECUs more easily identified.
The first Jaltest software update for 2014 boasts some impressive figures
7 new brands
221 new models
950 systems updated to incorporate electrical diagrams & technical information
Notable coverage improvements for Euro 6 models & agricultural vehicles
ETM module improved to simplify direct diagnosis on EBS modulators.
More importantly to our customers is the continued development of features designed to optimise the tool's usability for 21st century HGV technicians.  Here's what we at Eclipse see as the most notable features in Jaltest Soft 14.1
Haldex EBS Generation 3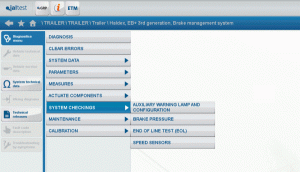 Quick link icon for trailer ECU identification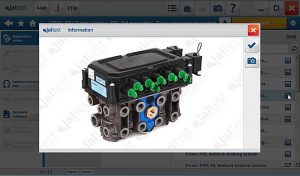 New DAF XF106/116 introduction with EAS 3
Addition of the Mercedes Antos (Full coverage) the successor for the Axor
Mercedes inversion test for testing the crank/cam sensors, wiring and synchronisation
Iveco Eurocargo Euro 4/5 New test for the high pressure pump regulator valve. Brilliant checking procedure as these vehicles suffer with their fuel systems
Euro 4-5 Iveco Stralis BC Body Computer programming and config change
Scania R,P,G series HPI Engine management. System reset for the EGR system and NOx data. Needed when either the catalytic converter or AdBlue injector or NOx sensor is replaced
Scania R,P,G series APM air processing module. Can now program the control module when a new one is required
DAF ABS D/E Can now adjust the wheel parameters for when different exciter (pulse wheels) are fitted
DAF ECAS-2/ECAS-3 Can now copy the control module for when a new one is required
Mercedes Sprinter 646 engine – DPF regeneration cycle
Volvo FH/FM Euro 4/5 Engine system reset. Used for when any component relating to emissions has been changed (NOx sensor, EGR valve, DPF Pressure Sensor)
Mitsubishi Fuso Canter Addition of the heavy-duty 6M70 engine with ACM exhaust gas treatment system
To update your Jaltest Software login to www.jaltest.com with the username and password supplied with your equipment.
If you need help updating please don't hesitate to get in touch with Tech Support.