Available now for Texa Truck customers with an active TexPack contract is IDC4 V29.   Among the features included in this new release are new DASHBOARDS that TEXA developed specifically for Injection and EBS Trailer systems.   Another important new feature is the Vehicle check up function that gives you the possibility, for many models of the main brands, to diagnose all control units with only one operation.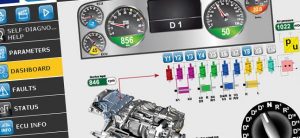 Here are some of the more significant vehicle updates and inclusions in V29:
DAF
Vehicle Check up function with reading and complete deletion of errors for ranges Euro 3 and Euro 4/5. Freeze Frame data is available for the Comfort and BBM systems.
IVECO
Freeze Frame, stored Data Reading, Trip Recording and Can Analyzer functions are available for models EDC7Eu31 and EDC16C39.  CNG (Compressed Natural Gas) Injection for IVECO Daily 2012 and the vehicle Check up function for Daily 2012 and Sprinter 906 are now available
KAMAZ
Dinex SCR and EDC7 7UC31 Euro4 systems have been developed.  Support information and wiring diagrams are included, making TEXA's product fit for the needs of Kamaz and up to the certification received by this Russian manufacturer.
MAN
Complete development of EBS 5 Knorr, safety error deletion, EDC7 C32, new functions in the activations, Wabco ZBR, following the manufacturer's logic.
MERCEDES
Freeze Frame function for Actros MPIV, new adjustment functions for Powertrain systems and second level diagnosis for Chassis and Comfort systems are introduced.
VOLKSWAGEN
Development of all the Petrol, Diesel, Powertrain and Comfort systems was concluded for the new Caddy 2012.
VOLVO
New activations and parameters.
PSA Group
EDC17 Injection control unit for Berlingo B9 and Partner B9 was developed.
Full details of coverage by manufacturer and model are available – see the next item.
New Graphical Interface for Diagnostic Coverage
Another new feature introduced by this update, but that can be consulted even by those who have previous versions, is the new software interface inside the menu at the 'Documentation' item. This allows you to view, through very intuitive and captivating graphics, the contents of the latest diagnostic developments in order to keep up to date and know all the new diagnostic features that TEXA provides for its customers. Potential customers can find this information at www.texa.com/coverage
New "Vehicle Check Up" Software Function
"Vehicle Check Up" is introduced in Version 29 of IDC4 Truck – an exciting new function to diagnose all control units of many models from the main brands.  In supported vehicles all ECUs can be diagnosed in just one operation without having to examine each system individually.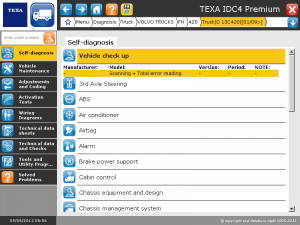 This function is an important new feature within the multi-brand diagnostic tool industry and, even with respect to the still active TGS2, it expands, enhances and simplifies workshop work.  Key features include:
Verify the models of the control units in the vehicle's electronic system, even if the are not supported by the self-diagnosis.
A quicker reading of the error memory (from 3 to 20 times faster).
Check of the 'active' or 'stored' status of each error in each control unit.
Access, when available, to the "error help" functions with the related repair procedures.
Selection and display of only one specific group of control units (even only one at a time).
Deletion of errors from the memory without having to physically reconnect the control unit at issue.
The same function is also available for Wabco & Knorr/Bremse Trailer/Semi-trailer EBS braking systems. For this category of vehicles, the function is called EBS Check up "Complete Scan + Error Reading" and it offers the same efficiency.
Legacy Equipment
While TEXA tries its best to keep its "old generation" diagnostic tools updated through an active subscription (for example NAVIGATOR MOBILE and TRIBOX with A-DIA module), the electronics in modern vehicles are often very complex and require diagnostic tools with advanced technological features. For this reason, for some new systems, some advanced diagnostic operations are not available using "old generation" tools.
IDC4 will provide this error if you try to access an unavailable function: "This function is not supported on the selected tool"
To discuss your upgrade options please get in touch with sales.
PS
Don't forget you will have to re-enter your special code if applicable once you've updated from v28 to v29.