Building on the existing impressive heavy vehicles diagnostic coverage JalTest Soft version 13.2 is packed with brand new functionality and enhancements to existing procedures.
Agricultural diagnosis
In addition to the previous basic, engine only coverage for tractors, 13.2 makes other systems available for diagnosis on both John Deere and New Holland vehicles.
Obtaining multi-brand agricultural vehicle diagnostics elsewhere inevitably requires an expensive additional license. Now truck and trailer fixers everywhere can branch out into agri work.
Trailer EBS Parameter plate printout
Currently only available for two WABCO systems, Jaltest will read the parameter plate data straight from the ECU. No longer do you have to remove road dirt and overspray to obtain the data you need to perform trailer ECU programming. Expect to see this print only (or export to pdf) function fully implemented by release 13.3 – we can't wait!
Tabular information
The example here of a WABCO EBS braking system shows perfectly the power and utility of data displayed in a simple table.  An immediately useful function that you'll wonder how you lived without previously.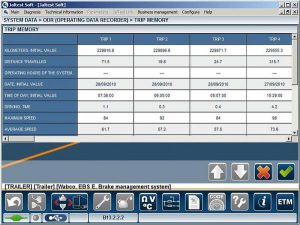 Title integrated for troubleshooting by symptoms
A small usability improvement – but worth a mention.  The Troubleshooting by Symptoms articles now show their title at the top of the screen which is useful to see exactly where you are in the list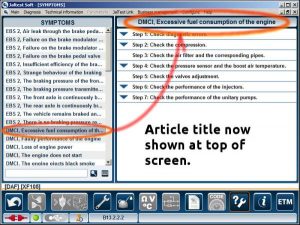 Vehicle Selection improvements and additions
On the basis that vehicle selection lies at the heart of multi-brand vehicle diagnostics, any busy technician will appreciate the efforts expended by software developers to ease the task.  Some examples of the ongoing commitment shown by Jaltest to better user interface design include: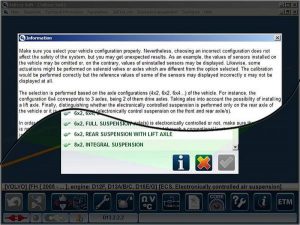 Help for variant selection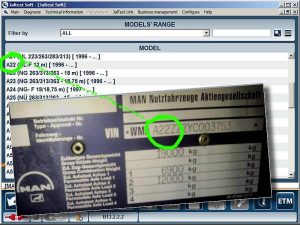 MAN bus and coach, menu selection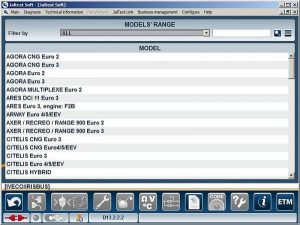 IVECO/IRISBUS bus & coach selection
New Hardware
The Jaltest Link hardware has been improved and updated in its V8 incarnation.
The status LEDs have been consolidated to just display Power, ECU and PC states.
Bluetooth hardware has been uprated and the antenna improved.
More robust CAN communication for trailers and some Scania vehicles due to decreased interference levels.  The previously required converter for the JDC110M2 trailer ISO cable is now eliminated (and cable JDC110M3 introduced)
Relays have been incorporated to multiplex in CAN conections allowing direct multiplex connections in CAN where before it was only possible to connect through multipins.
To update your Jaltest software log in to jaltest.com, download the update file and run it on your PC.