A software update addressing Volvo trucks in particular is available to download now.
Active software subscribers with an Internet connection to their diagnostic equipment should simply run IDC3, (choosing truck if car/agri/bike are also present) and wait wile the software contacts the Texa server.
The update process starts automatically with the standard connection settings or you can prompt an update through the toolbar.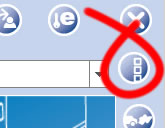 Toolbar menu
Update button
If your diagnostic computer doesn't have a direct Internet connection you may download the patch file from Eclipse.  The file will then have to be transferred (e.g. using a usb memory stick) before being run.